Written by Juliet Bennett Rylah
Though the Bee Gees wrote and recorded music for over 40 years, their origin story begins even earlier. The three brothers displayed a remarkable aptitude for songwriting and their trademark harmonies even as young boys. And before any of the Gibb children were born, their father was making his living on stage, albeit on a smaller scale than his superstar sons would decades later.
Hugh Gibb, Jr., was a working musician, forming his own Big Band and playing drums in night clubs, hotels and ballrooms throughout England and Scotland. In 1941, Hugh spotted a young woman dancing in the crowd of a Manchester ballroom. When he got a break, he asked her to dance. She introduced herself as Barbara Pass and three years later, they were married. In 1945, they welcomed their first child, daughter Leslie Barbara.
Hugh soon accepted a steady gig playing at a hotel on the Isle of Man, a popular vacation island located in the Irish Sea between Ireland and Great Britain. It was there, on September 1, 1946, that the eldest member of what would become the Bee Gees was born. Barry Alan Crompton Gibb was given the middle name Alan for Hugh's late brother, and Crompton for Gibb ancestor Samuel "Sir Isaac" Crompton, credited with inventing the spinning mule. On December 22, 1949, twins Maurice Ernest and Robin Hugh were born. First came Robin, then Maurice a half hour later.
Maurice and Robin were not identical twins and, in fact, all three brothers had very different personalities. Maurice was the comedian, while Robin was noted for his vast imagination and penchant for writing. Barry was often quiet, but very ambitious. According to Barry, he accidentally poured a pot of scalding tea on himself when he was just one year old, which he believes may have contributed to his personality.
"Although I don't remember it, I must have gone through extreme agony at some point," he said in an interview with David Leaf for the group's 1979 biography. "That might have made me a fighter or more determined to survive or make it. It might sound corny as hell, but it is the only thing I can attribute my optimism to."
Early on, the three brothers showed a strong connection to music, singing in perfect harmony with one another. By the mid-1950s, the boys were borrowing their older sister's records—Elvis Presley, the Everly Brothers, Tommy Steele—and miming to the music using fake guitars they'd made out of boxes.
This hobby would lead to the brothers' very first public performance in 1956 at The Gaumont, a nearby movie theater where children were allowed to pantomime songs on stage before Saturday matinees. The brothers practiced with two neighborhood friends, Paul Frost and Kenny Oricks, calling themselves The Rattlesnakes. Yet just before their big debut, the sound tech dropped and shattered Leslie's record. Though only Barry had a real guitar, they decided their debut would not be thwarted. They went on and sang the song with only Barry's strumming for musical accompaniment. What song it was, exactly, no one can remember, but Robin recalls that the kids in the theater loved it.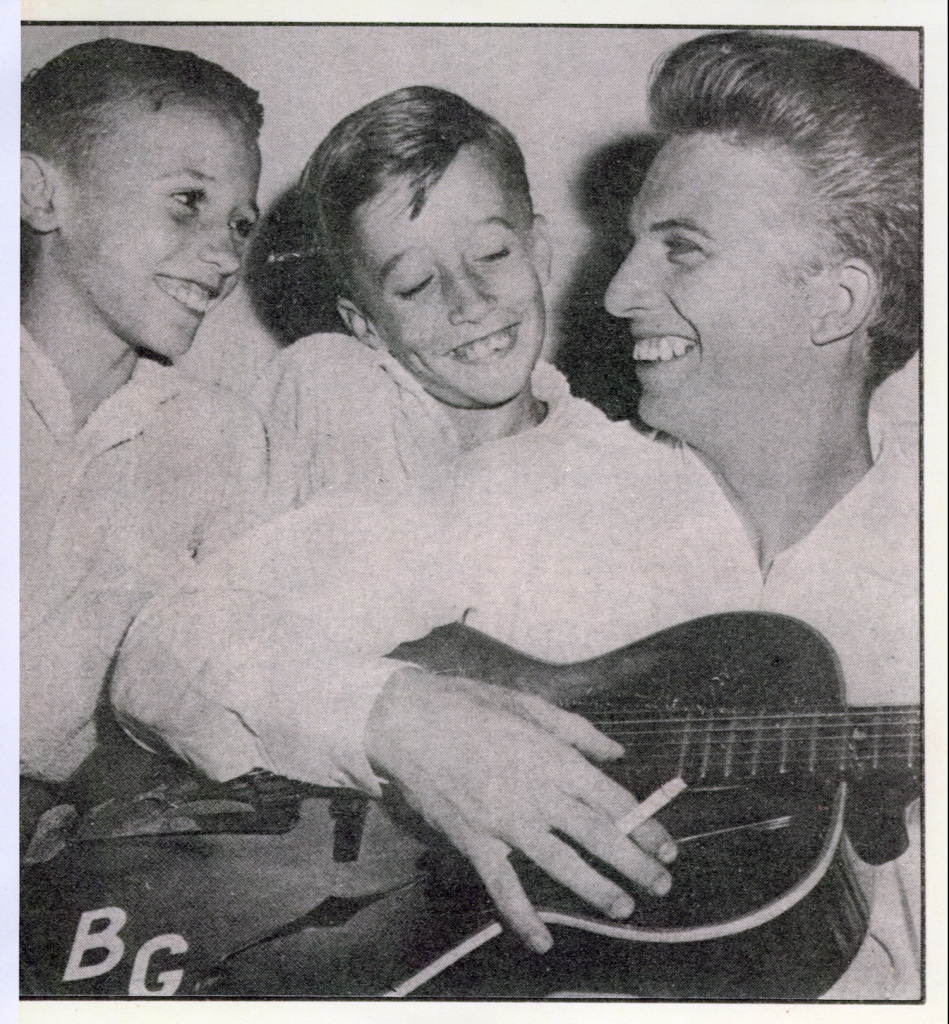 "We were sort of an instant hit," he said. The theater manager was so impressed that he sent them to another movie house down the street to play the song again.
From that moment on, Barry said all the brothers cared about was getting discovered. "It was the feeling of standing in front of an audience that was so amazing. We'd never seen anything like it. We were very young, but it made an enormous impression. We didn't want to do anything else but make music."
The brothers renamed themselves Wee Johnny Hays and the Bluecats, and went on to mime and sing more songs in local theaters. When the family decided to emigrate to Australia, Barbara recalled finding the boys performing for their fellow passengers on several occasions over the course of the five-week journey. The Gibbs arrived to their new home in 1958. By this point, the family had grown to include baby Andy Roy, born on March 5 of that same year.
While Hugh was making a living in Queensland as a photographer, Barry, Maurice, and Robin made a serendipitous trip down to the Redcliffe Speedway in 1959. Toting along Barry's guitar, they asked permission to play between races. They played their own compositions, which caught the attention of racing driver Bill Goode. Goode contacted his friend, DJ Bill Gates, and told them about the three young songsters.
"The thing that really stood out was their natural harmonies, and how wonderful they sounded over this old tinny PA system," Gates said in an interview with the Sydney Morning Herald (https://www.smh.com.au/entertainment/walk-down-memory-lane-with-dj-who-found-the-bee-gees-20130213-2eckp.html). "Goode and I both remarked on that, and we decided to see if we could help them in some way."
Gates recorded several of the brothers' songs and would play them on his radio program. At Gates' suggestion, they called themselves the B.G.'s, noting the common initials among Bill Goode, Barry Gibb, and Bill Gates—not to mention Barbara Gibb. Of course, this would eventually get stylized as the Bee Gees, ultimately standing for The Brothers Gibb.
At this point, Hugh became the band's manager, devoting his career to his sons'. They appeared on a variety of Australian TV shows, including "Brisbane Tonight" and talent show "Anything Goes," and played at vaudeville theaters, nightclubs, and bars—even though they were just kids. Hugh drove them around and taught them Mills Brothers songs to sing, while Barbara focused on choosing their performance outfits. Soon enough, the trio became the breadwinners of their family.
At one point, the Bee Gees held a long stint at a Queensland club in Surfer's Paradise, where, in 1962, Barry introduced himself to Australian pop singer Col Joye, and his brother, Kevin Jacobsen, and asked if Joye would listen to a few of their songs. Joye was immediately taken with their sound.
"It was kind of freakish how one harmony could suddenly go to the lead and the lead would go to the third and the third would go to the fifth… I was more than impressed," Joye told journalist Richard Glover. (http://www.abc.net.au/local/stories/2012/05/21/3507687.htm)
Jacobsen then became the Bee Gees' managers, and they soon scored a five-year contract with Festival Records. At this point, the Gibb family uprooted once again, this time to Sydney.
Despite the trappings of burgeoning success, the brothers were far from fame. Their first several singles were duds.
"I think we made about 7 to 11 singles that all flopped in a row, so we really found out what failure was all about before we even started," Barry Gibb recalled in an episode of VH1's Legends.
It wasn't until Festival producer Bill Shepherd asked if he could produce the group that they recorded "Wine and Women" which, thanks to Robin's study of music charts and fans of the band who purchased multiple copies of the record, made it to no. 35 in the charts.
Still, Festival's interest in the young band waned, even though they refused to release them from their contract. An agreement was eventually reached in which Festival sublet them to Nat Kipner's label, Spin Records, where producer Ossie Byrne allowed the brothers to record in his small studio, located in the back of a butcher shop, for free. Now, instead of being crammed into the studio before larger acts, the brothers were free to experiment for hours.
It was here that they recorded their first Australian hit, "Spicks and Specks," released in September of '66. However, the family had already decided to move back to England in hopes of further advancing the Bee Gees' career. By the time they realized "Spicks and Specks" was a smash, they were already sailing back to the U.K.
Only a few weeks after arriving in England, the family received a fateful phone call from Robert Stigwood, the partner of famed Beatles manager Brian Epstein. Stigwood had heard the tapes the Gibbs had sent and was wowed by their songwriting and singing. He tracked them down, phoned their house, and requested a meeting.
"I loved their composing," Stigwood told Rolling Stone in 1977 (https://www.rollingstone.com/music/news/how-can-you-mend-a-broken-group-the-bee-gees-did-it-with-disco-20120520). "I also loved their harmony singing. It was unique, the sound they made; I suppose it was a sound only brothers could make."
The same day of the meeting, Stigwood arranged for the Bee Gees to audition at the Saville Theater, which Epstein had leased to present plays and concerts. After just that one show, Stigwood signed the Bee Gees to a five-year contract on February 24, 1967.
The brothers, along with Colin Petersen on drums and Vince Melouney on guitar, recorded their demos at Polydor and their final cuts at the storied IBC Studios in London. They were again joined by Ossie Byrne as co-producer and Bill Shepherd, who would go on to collaborate with the group for years, arranging the strings. The end result was the record Bee Gees 1st, which contained their first international hit with folk ballad "New York Mining Disaster 1941." From there, the Bee Gees destiny as music legends was nothing but inevitable.